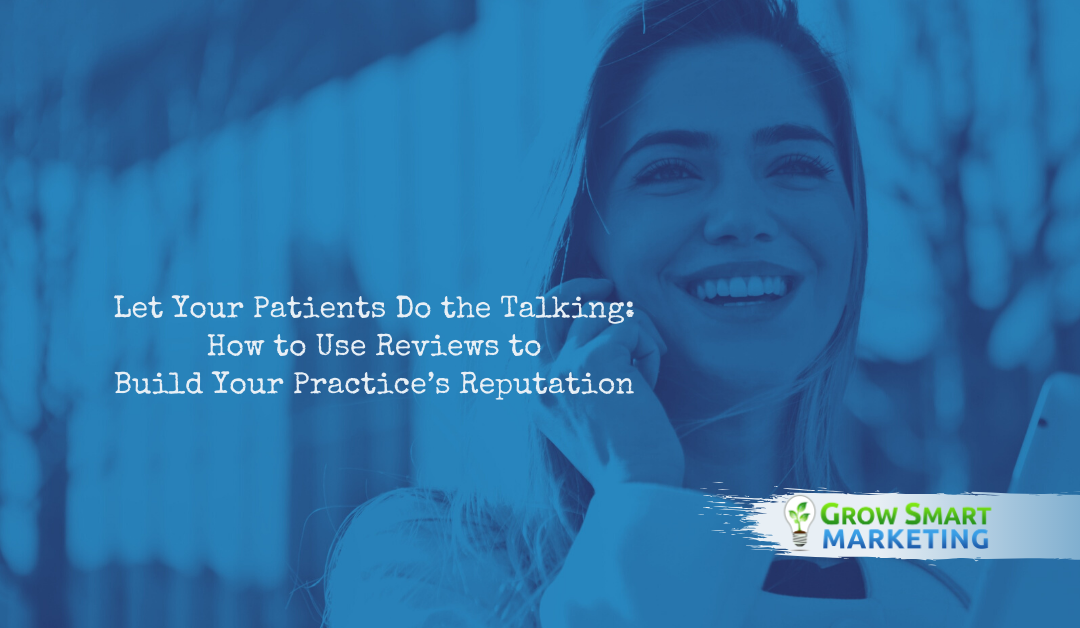 Your practice can add credibility and complexity to its content when you regularly incorporate the positive feedback your patients leave. This practice has an added bonus of rewarding patients for their praise, strengthening your relationship with them and encouraging others to follow in their footsteps.
You may think that simply regurgitating patient acclaim can seem like a cheap or shallow tactic. When you go about using reviews and testimonials incorrectly, that can certainly be the case.
But when you can masterfully weave praise into your content marketing and collateral materials, it feels like a natural fit. Your content becomes richer, and your brand name becomes more credible.
According to eMarketer research, online reviews are by far the most trusted source of business information. In fact, 91% of 18-34 year old consumers trust online reviews as much as personal recommendations. Putting your reviews front and center in your content offer documented proof of peer approval, and no one has to go digging into third-party sites to find that proof.
So if you're considering using patient reviews to obtain all of the above benefits and more, try putting the following strategies into action.
Pepper Website Pages, and Especially Landing Pages, With Embedded Reviews and Accolades
Medical practices have a trust gap they must clear when a potential patient first arrives at their website. No matter how comforting or flashy the site is, patients are always on the lookout for signs that they could get burned. They may scrutinize your claims or look for fine print that reveals how your offers aren't what they seem.
Oftentimes, they will look to outside resources before they can let down their guard. The Local Consumer Review Survey 2018 by BrightLocal unveiled that 86% of consumers read reviews for local businesses (including 95% of people aged 18-34) to inform their purchase decisions. Not only that, but 80% of 18-34 year olds have written online reviews – compared to just 41% of consumers over 55.
Adding reviews right on your web page immediately begins to chip away at their defenses. They can begin to feel some relief knowing that your practice has rewarded others for their trust. Evidence that people don't regret spending their hard-earned money on your services can reduce the natural hesitation some people might feel.
This also helps keep them from heading down rabbit trails on the internet looking for outside information on your practice. It keeps them on your site. If they already see positive reviews then they don't need to go digging through all of the other reviews online. This helps to ensure that they are less likely to encounter negative reviews that color your business in an unfavorable light. 
Even if someone does do their own homework and encounters a mixture of positive and negative reviews, their first impressions are already fairly rosy. Each negative reviewer must then make their case for why this positive first impression is wrong.
When incorporating testimonials and feedback on your web pages, be sure to use the following best practices:
Take a second to re-read the third-party reviews site's policy on sharing reviews. They may have limitations on how you use them.
Always ask the reviewer for permission. Nothing hurts worse than having someone who praised your business turn around and complain that their own words were used unethically.

Don't take things out of context. Using an excerpt of a review is fine, but don't cherry-pick statements that paint a different picture for the reader than the review as a whole. For instance, don't just take the positive things a reviewer conceded out of a negative review.
Quote the person verbatim. Changing words around or using tricks like mashing two unrelated things together to make a sentence is deceptive and unethical. You may even be subject to FTC penalties.
Share Interesting or Glowing Reviews to Social Media

Getting people to leave reviews is hard work! Unless, of course, they had a bad experience. According to one study of 2,000 U.S. consumers, over half of people say they're likely to publicly complain about a bad experience with a business—often resulting in a bad review.
A second study found that most people only leave a positive review if they were overwhelmed with how great their experience was. "If instead you had a moderate view, you're likely to have left no review at all, finding it not worth the time and effort," say the researchers in the Harvard Business Review.
So how do you encourage patients to leave a review if they aren't angry with you and they weren't absolutely blown away? Simple: reward them with a public mention!
By sharing someone's positive review online, you reinforce the behavior. You also encourage others who want public recognition and attention to leave reviews of their own.
Let Reviews Inspire Your Content Marketing Strategy
Content should solve audience needs and conclude with a gentle promotional nudge towards your company. Treading this narrow path between information and promotion is admittedly difficult for most businesses. Seventy-nine percent of editors say they have to turn down guest blog posts because they're overly promotional.
The problem is that most businesses can't find an angle. "8 Reasons Our Food Is Amazing" is something no one would want to click on! But "10 Keys to Improving Customer Service" can work, especially if you're able to point to specific best practices you can use.
When writing these types of articles, starting with positive features of your business or product as a jumping-off point can lead to a disconnect. In other words, your business could be proud of something that no one really notices.
Instead, take a look at your own reviews to get inspired. Let's say you received a review from a patient who cites six different positive reasons they love coming to your office; it was clean, friendly staff, comfortable waiting area, short wait, and a professional doctor who took the time to really listen to their concerns.
Taking that list, you could simply write an article about the "6 Most Important Things to Look for in a Medical Practice." Since you know people enjoy these things about your office, you can mention them honestly. You can also write while thinking about the perspective of a patient who has been to a clinic or practice that is not welcoming or that regularly has long and uncomfortable wait times.
Of course, you can also use negative criticism to inspire you. If you have had issues in the past with bad customer service, you can list "X Things We've Changed to Make Your Experience Better" to win people back.
Getting More Patient Reviews to Use in Your Content Marketing
All of the strategies listed above depend on a constant, fresh stream of patient feedback. If your most recent review was from 2014, you may have a problem!
To counteract this issue, make leaving a review as simple and convenient as possible. You can use third-party software tools to automatically send an email to someone and ask them for their review on your preferred platform. You can also leave a convenient link on your home page so that everyone can easily find their way to your review pages.
Reach out to some of your most loyal or satisfied patients to see if they would take the time to write a one to three paragraph testimonial on your behalf. You can use these longer reviews (with their permission) as quotes or embedded reviews framing your content or occupying your most critical landing pages.
Another surefire method to jog people's memory is to use marketing collateral offered by review platforms both online and in real life. Place window decals on your entrance or include a ready-to-print plaque right by your cash register.
Train sales associates and office staff to ask for feedback at the end of every interaction. Be aware of specific platform policies, though. For instance, Yelp demands that you only use certain brand materials in certain ways. They also have a strict policy where you can't ask people to "review our business on Yelp!"
With just a small amount of effort, your content quality and credibility can be dramatically improved by using patient reviews in clever ways. Patients' trust absolutely thrives on documented proof, and they like to see that their words matter when they have something to say.
Sharing their reviews is the best way to tell them "thank you" and that their opinion is important. That's customer service and content marketing rolled into one!